Your trusted partner for all your logistics needs.
You deserve exceptional transportation service at every bend of the road.
Whether you need dry van, refrigerated, or a custom delivery solution, we've got you covered. Our team of logistics service experts will work with you to create a customized transportation plan that prioritizes the safe and timely delivery of your cargo, every time.
Freight
transport for
your industry.
We bring decades of industry-specific knowledge and experience to provide the best in freight hauling services for every industry, including:
Agriculture
Consumer goods
Food and beverage
Furniture
Medical
Manufacturing
Paper and dry goods
And more
We make your
cargo top
priority.
We haul all kinds of cargo on regional, long-haul, and short-haul routes and provide tailored solutions to meet your needs. Whether you're scaling, pivoting, or dealing with seasonal changes, we've got your back.
Dry van
Refrigerated
Point-to-point
Multi-stop
Drop and hook
Round trip
Power only
Dedicated
We've got your lanes covered.
Our extensive network allows us to serve a wide range of locations, and we're always ready to create new lanes to meet your evolving needs. Whether you need to transport your goods across state lines or across the country, count on us to get the job done.
We currently serve Alabama, Arkansas, Florida, Georgia, Illinois, Indiana, Iowa, Kansas, Kentucky, Louisiana, Michigan, Minnesota, Mississippi, Missouri, North Carolina, South Carolina, Ohio, Pennsylvania, Tennessee, Texas, Virginia, Wisconsin, and more.
Our primary lanes map:
Outbound Lanes
Inbound Lanes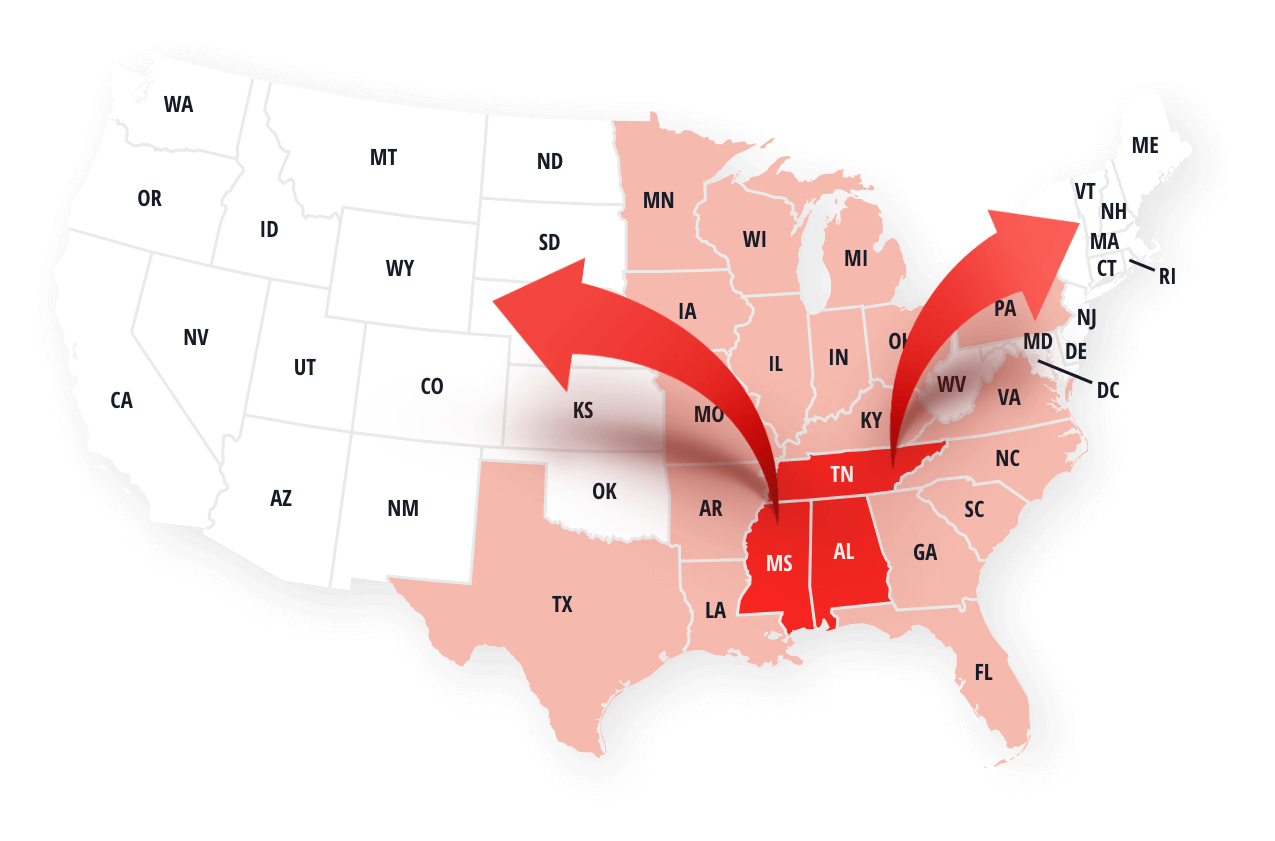 Advanced equipment
and no compromises.
We're passionate about equipment and only use the best. Our fleet consists of the most modern Mack, International, and Volvo trucks, all equipped with cutting-edge technology for optimal safety, transparency, and trucking efficiency. Our drivers enjoy a seamless experience behind the wheel, and our customers get nothing but the best service possible.
Prioritizing freight transparency & safety.
We've teamed up with top technology partners to equip our trucks with next-generation solutions for safety, tracking, and real-time insights into your cargo. Our logistics experts combine their know-how with leading-edge artificial intelligence and machine learning to fuel our fleet management and power your deliveries.